Following up on a super-fun Friday in Valkenswaard to see Guus Meeuwis, Karan, Edwin and I decided to warm up for the 80s/90s party in the evening at the Effenaar with another visit to Valkenswaard for a 90s party.
At first, the place was a bit dead: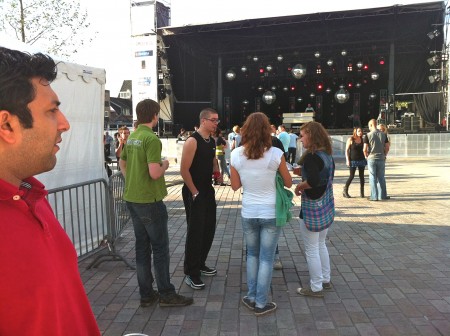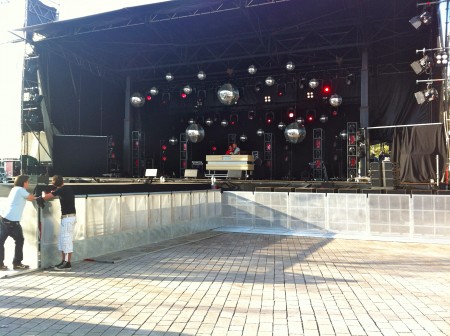 After a few beers, things started looking better, though:
Some unknown DJ was warming up, and then an apparently well-known DJ, Mental Theo, took over.  He was less than amused by the fact that only maybe 100 people were present.  It may be related to the face that he was playing quite hardcore music for sober people while the sun was still up…
Next up was Twenty 4 Seven, whom I'd never heard of, but I still recognized a few of their songs. Li Ann, the female lead, was jumping a loot, so I snapped a lot of video footage.  Slave to the Music, their best-known number, starts around 1:46:
Back on was Mental Theo; now with more people.  Apparently, he's an ancient Egyptian: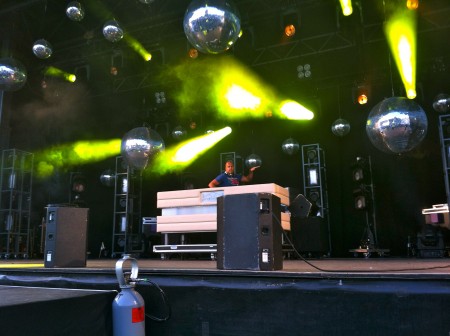 Next up: 2 Brothers on the 4th Floor: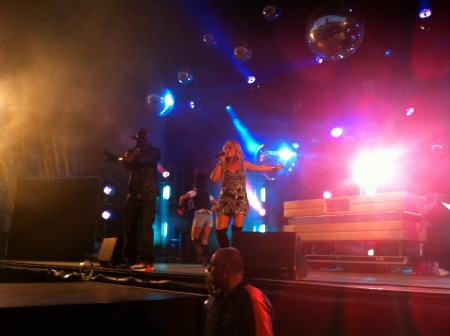 Yes, one of them is female and none of them are the brothers in question.  The link above tells you more than you would ever want to know.  Apparently, I found the backing dancers more photogenic than then lead singers, so focus may be a bit on them.  Features Mirror of Love (at 0:26) and There's a Key (at 3:20):
Next more Mental Theo and then the main name: 2 Unlimited (featuring Get Ready for This with the word Jump intermixed at 0:24, No Limit at 1:50, and Tribal Dance at 5:15; also: fire!):
Also, Edwin stole a hat from a kid (as you could see in the video above at 6:47); he got his ass handed to him: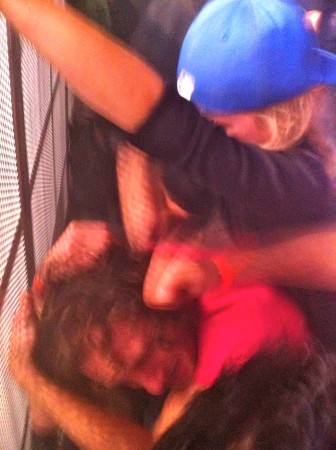 Also featured, fire!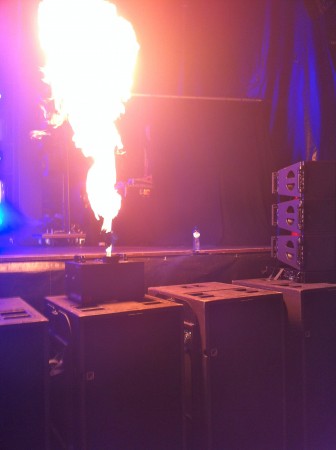 After spending approximately €140 on €2 beers for 3 persons (and a generous amount of Flügels), we went to the Effenaar for more 80s/90s music: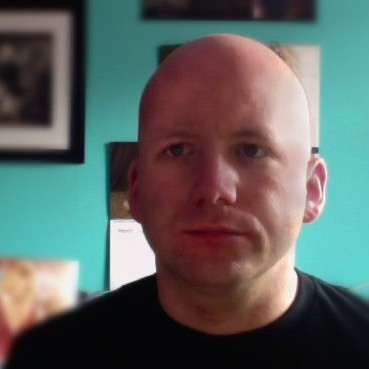 Time person of the year 2006, Nobel Peace Prize winner 2012.