This week I've been on conference in Rome.  Monday I spent touring around the city.  While doing so, I made sure to live-blog the entire event.  Here is a transcript of my live-blog, making it possible to enjoy it time and time again as well as to revel in my wisdon without going to Facebook or Twitter.
09:17: Austin Powers? Or, would anybody else drive a Mini Cooper with Union Jack on the roof? (ed: bad memory, it's really AP's father who has a Mini Cooper.)
09:52: Bombsplosions, tons of police, helicopters, protesters. Just another morning in Rome, I suppose.
09:59: You know how shipping companies use slow steaming to save money? The people in front of me invented the same thing but for walking.
10:21: There's supposed to be some Spanish Steps around here. I hope they're as good as the British ones. 5-6-7-8!
10:35 @ the Spanish Steps: From the world championships of coding Beta for CPN Tools on the Spanish Steps: currently in the lead: Michael by reindenting one line.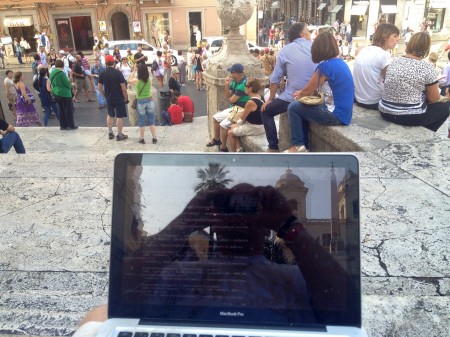 11:50: Stop the presses! I found a bunch of big-ass old buildings!
11:58: Somebody should inform the Italians, the bulldozer has been invented. What's up with the streets going down and up like the lyrics to the Britney song?
12:14 @ Colloseo: Writing some Java at the Colosseum. Also, horsie!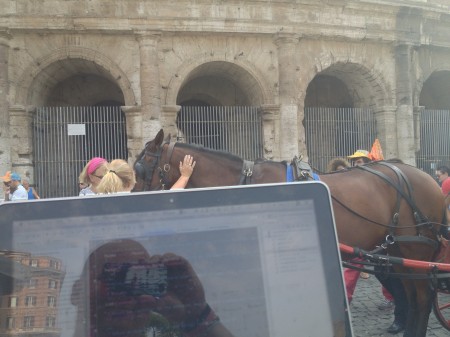 12:16 @ Colloseo: This colosseum bores me: way too few Christians getting killed and I'm sweating like a pedo. Off to the Vatican it is!
13:11: Ah, the Vatican. Now, I can relive all the good moments from Angels & Demons. Done.
13:39 @ Vatican City: Browsing the internet (do not click this link!) at some big-ass old church-thing. (ed: Why Goatse? It seemed appropriate and amused me at the time. Also, it saddened me that nobody seemed to notice and commented on this fact.)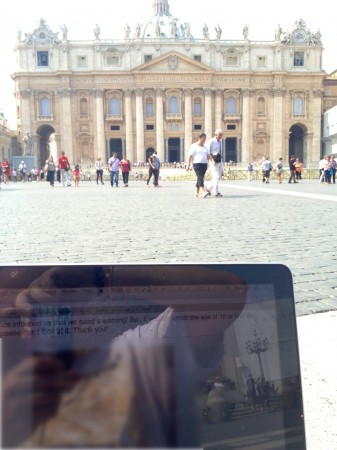 13:52: Time for some real culture instead of all these old buildings. Playing some B.
15:34: After a 6 hour, 20 km walk of Rome, sitting down is actually quite nice.
16:03: With the purchase of 1.1 kg parmesan cheese and 1.6 kg parma ham, I declare this conference a success!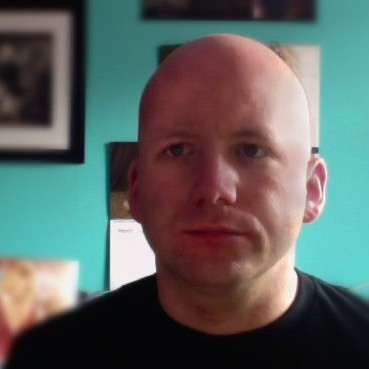 Time person of the year 2006, Nobel Peace Prize winner 2012.