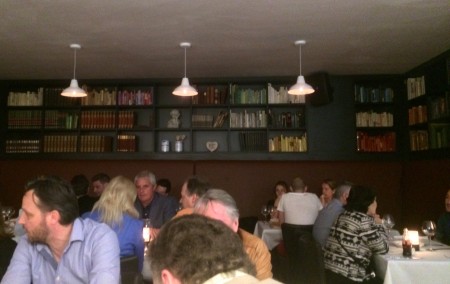 Sunday, I went to the pre-opening of Books & Art, where we had a proeverij of the various courses.  The concept is similar to Liesje, in that you pay a fixed amount (€35, if I'm not much mistaken) and get unlimited courses all night (though I think there's an extra on some of them).
It's located where Boekencafé used to be (Dommelstraat 24), and has retained some but not all of the books.  Instead, the books are now ordered by color, which should satisfy any with OCD.  There's also pictures on the wall, and it's supposed to change every couple of months with new artists. Don't forget to find the place where Ruud and Jack have been photoshoped in on the big picture immediately inside the door. There's also a couple comfy chairs and a couch I'll most likely end up sleeping on some late night having many a beer on.
First we got some bread with tapenade and kruiderboter.  I did not get any pictures of that.
Next oyster: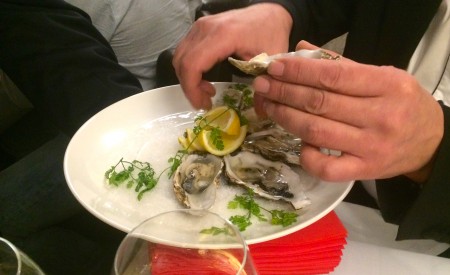 After that soup.  I had a tomato soup, and there was also an onion soup (which I didn't get a picture of). I liked the onion soup better, but the tomato soup looked better.  At the top you can barely see the remnants of the bread.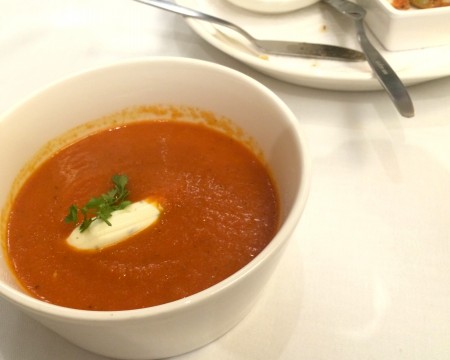 Then carpaccio. While it looked very nice, I couldn't really taste the meat due to how it was rolled up, which is a bo=it of a shame but fixable by (at least partially) unrolling it.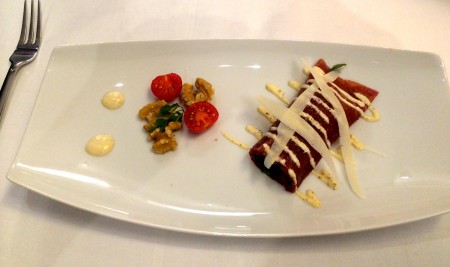 Then we got pork with mash, mushroom sauce, asparagus, and at the same time lambsrack (we got two different courses at the table to be able to taste more different stuff).  I really liked the lamb and the mushroom sauce of the pork.  I think pork in general has a tendency to being a bit on the boring side. The mash was clearly homemade, which definitely is a plus.  Both pictures are taken after eating part of the dishes.  In fact, that's the case for all of the following 5 pictures.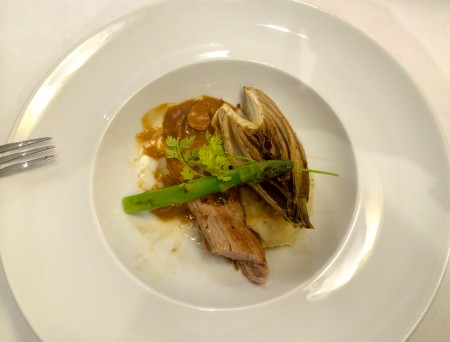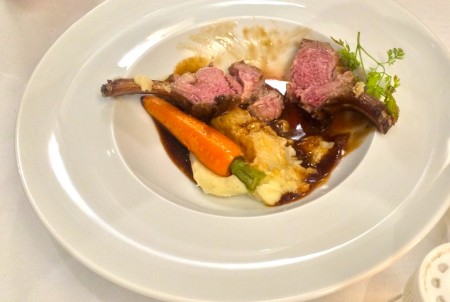 After this, time for a palette cleanser in the form of a glass of Monte Scroppino.  A bit on the sweet side for my taste, but nice in the sun as long as you don't hurt your hand by breaking the glass.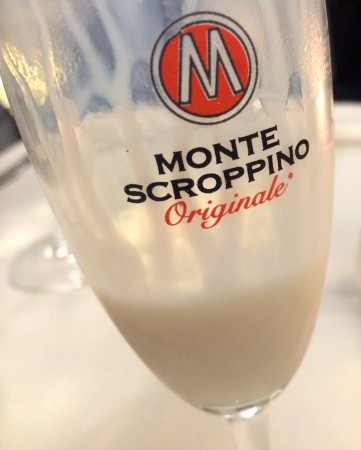 Next, we got two courses as well: scampis with saffron mayonnaise on the one hand, and goat cheese with bacon and dades.  I definitely preferred the scampis, to a large extent because while I can see the idea of the mix for the goat cheese, it's just not my taste at all – despite the bacon.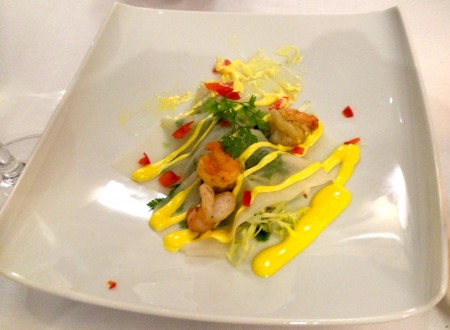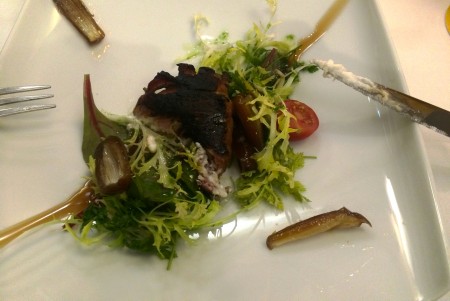 Next up was again two courses, though we decided to opt for the lobster at my table. The alternative was a Black Angus steak, which – while nice – I've had many times more than lobster. Did not get a picture of the cow, but here's Dr. Zoidberg: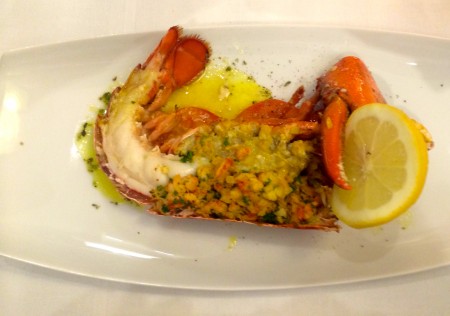 Finally, dessert; here we got a selection of three different ones, and true to tradition I only managed to get pictures of one of them. First, the cheese-plate with bread that's much tastier than it looks. The cheese was a good mix, though some of the magic went away seeing the cooks opening the pre-packaged single-serving bags in the open kitchen.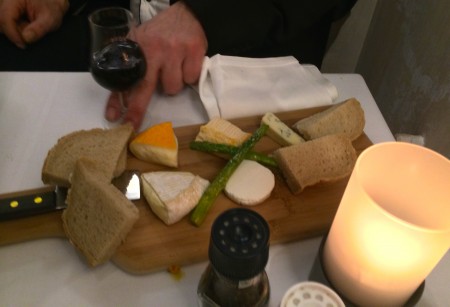 Alternatives were a crème brûlée, which while nice was just a crème brûlée, and a quite good tarte tatin.
All in all, quite good and definitely worth €35 (though I don't know which of the above has an extra; my guess would be at least the lobster?). The place opened officially today, and I'm planning on hitting it up later this week. I'm also looking forward to in a month or so when all the relatively minor kinks that inevitably pop up when starting a new place ((Though the staff (mostly?) all know each other from working at Dommel 18, so it's not a group that can't work together.)) have been eliminated.
Thanks to Ruud and Jack for a nice evening with good food!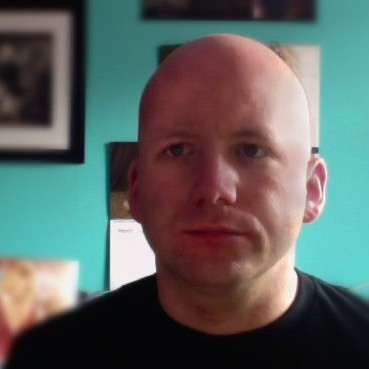 Time person of the year 2006, Nobel Peace Prize winner 2012.