Went for a quick bite at Boreas.  It was my first time at a two-star restaurant, so my expectations were high.  They have this special once a month on Saturdays, where you get a 4 course lunch including wine for just €90.
First, amuses; the middle one which had white chocolate, wasabi, and caviar was very yummy.  The oysters were ok (and looked cool).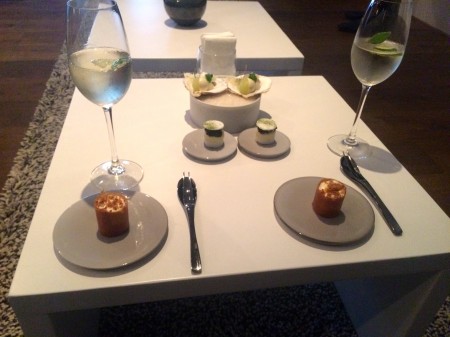 Then the starters; first a pastry with bacon and caviar – it was nice – and second a very mild fish dish that looked and tasted like it was supposed to be served during spring.  We agreed it was a palette cleanser more than anything else.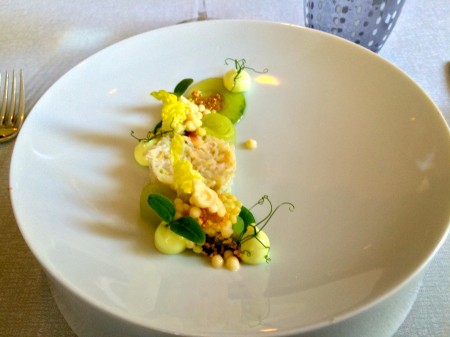 Then the tussengerecht, scallops with a positively heavenly mussel-cream sauce.
Then hare with parsnip, cranberry and a pâté.  The hare was very tender, but the real champion here was the sides.  The cranberry was heavenly and the rest full of flavor.
The desserts: first a meringue which was nice, but extremely sweet, and then a very nice ice cream with chocolate and hazel nuts.  Very yum.  Also featured: an alternative to the ice cream without hazel nuts but with apricot instead.  According to Sophie also very nice.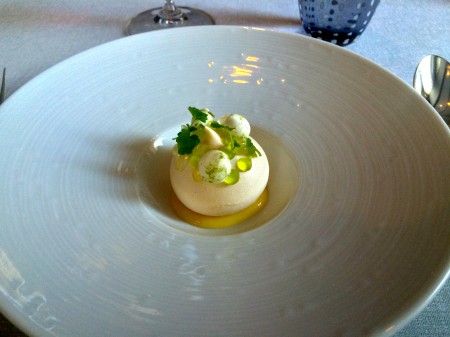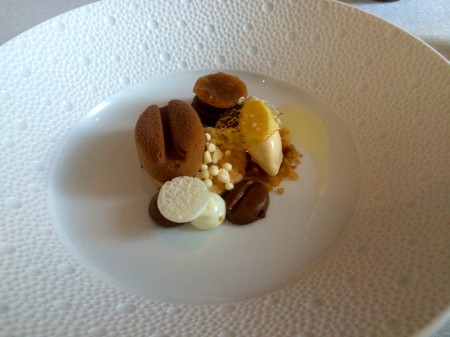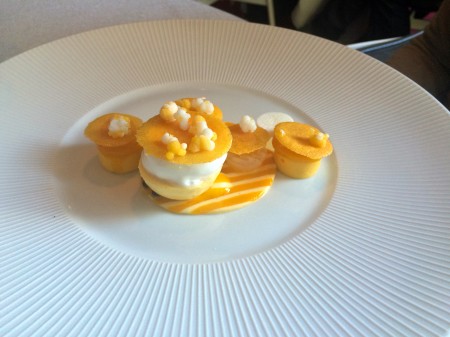 At the end, coffee with sweets. Except for the pink macrons, I found this very delicious (especially the yellow chocolatey orange things as number 4, the chocolate truffles as number 5, and the hazel nut chocolate with wiener nougat as number 6, 2nd from the left.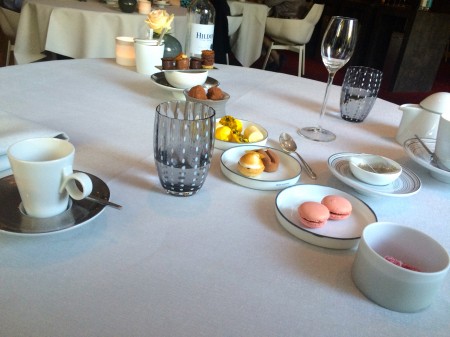 The food was very nice, very balanced, and the staff was friendly if a little professional. They made way fewer mistakes than is seen on regular one star places (though the table placement forced them to either serve or clean away from the wrong side), and it felt as if they were snapping the plates away.
The wines were balanced to the courses and the sommelier realized Sophie knew about wine and took time to explain the wines. I went for the non-alcoholic alternative, and the aperitif and the first couple whites were ok, though the red for the main was way too sweet and lacked any form of body, though that can hardly be taken against the place nor the sommelier.
All in all a very nice lunch, which took around three and a half hours to get thru, and left us very full. We got 4 courses, but both the starter and dessert were really 2 courses each, and we got 4 amuses. With this were an aperitif, wines for each course, and coffee with sweets. They were not stingy with anything even though it was all inclusive, and we got bottled water for the table, refills of coffee and even the offer of two dessert wines, one for each dessert, without extra charge. All in all, it is a very nice deal especially for the price.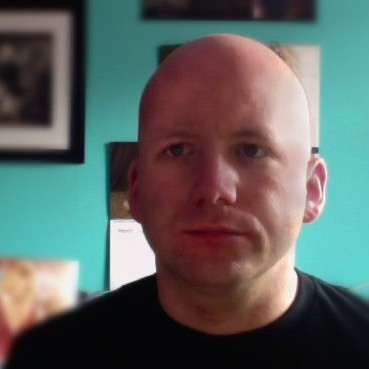 Time person of the year 2006, Nobel Peace Prize winner 2012.