Last week I went to Scotland for vacation.  More precisely, Islay.  Islay is known for its whisky, which (with a single exception) is very peaty and good.  We were 4 persons (aside from me, Henrik, Største, and Ragnvald) who rented a cottage for 5 days.  If you are so inclined, I have posted a gallery of a lot more pictures than I can reasonable put into a single blog post here.
We flew from Billund to Edinburgh, rented a car to Kennacraig, where we stayed at a B&B before taking the ferry to Port Ellen.  The plan was to visit all 8 distilleries on Islay.
Saturday: Kilchoman and Port Ellen Maltings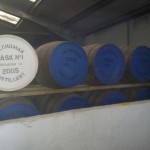 The first stop was only a few hours after landing.  We went to visit Kilchoman, the newest and smallest distillery on Islay.  We got to see the distillery and got a nice tour for our first.  We tasted the whisky (ok, but not exceptional) which was only 3 years old (as that is the age of the distillery).  We bought a small 5 cl bottle of the whisky (larger bottles were sold out) to compare with the released versions in a couple years.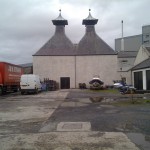 After visiting Kilchoman, we had the rest of the day off, and decided to take a look at Port Ellen Maltings and the old Port Ellen Distillery buildings still left.  Not much was left, and unfortunately our program could not a fit a tour of the malting facility, so we has to just snoop around.
Sunday: Laphroaig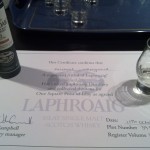 As Laphroaig was the only distillery that was open on Sunday, we decided to visit them on Sunday.  Here, the tour is much more professional.  We got to see everything in more detail, but the tour was not as good as the one at Kennacraig, most likely because we were a dozen or so, whereas at Kennacraig, we were only the four of us.  After the tour, we got to taste "white spirit", the whisky before it is put on cask and aged.  After the tour, we went into the "FoL Lounge" — we had all signed up to be come Friends of Laphroaig beforehand — where we were allowed tastings until closing time.  We got to taste the standard Laphroaig, the cask strength and an older version.
Interlude: How Whisky is Made
To allow me to refer to how whisky is made, I'll give a brief overview so readers unfamiliar with this can follow.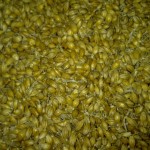 First, the barley is malted.  This is done by spreading it out on a large floor and adding water.  The malt is left for a couple days, and is turned every once in a while, allowing it to germinate.  This is to change the sugars in the barley to something that can be used by the yeast later on.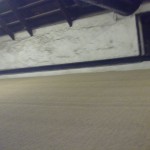 Second, the malt is dried.  Earlier, on Islay, this was done using peat as the energy source.  This is what yields the peaty taste of Islay whiskies.  Today, the malt is first dried over peat, and then in the last half of the drying, a modern heater is used.  This is done in order to preserve the sugar for the fermentation.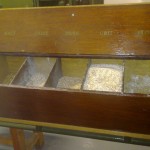 After this, the dried malt is ground in a mill.  People, who have ever been to Ardbeg, will know they have exactly one mill there.  For most distilleries, this is the first step actually performed at the distillery, as Port Ellen Maltings takes care of the previous two phases for most of the distilleries (except Kilchoman, Laphroaig, and Bowmore).  The malt is not ground into flour, but into grist, which is a coarser version of flour.
Then hot water is added to the grist in a mash, producing wort.  This is done to get the sugar into the water to allow the fermentation.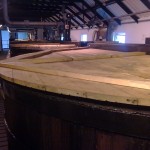 The wort is moved to the washback and yeast is added and is allowed to ferment.  After the fermentation, what is left is called wash, which is basically a bad, warm, sweet beer with around 7-8% alcohol.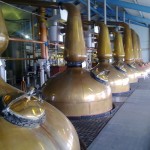 Finally, the wash is distilled, first in a wash still, to produce low wine, and after that in the spirit still to produce the spirit.
The spirit is put to casks and matured for a couple years.  The casks are mostly recycled burbon casks, disassembled in the US and reassembled in Scotland.  The reassembled casks are typically larger, the hogshead casks.  Some times also sherry or other casks are used to give a different taste.
Monday: Caol Ila and Bunnahabhain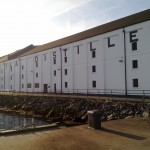 Caol Ila is one of my favorites from Islay, and I was looking forward to the tour.  Caol Ila is very industrial, and is mostly used for blends.  The guide as very nice and we got to see a couple new things, including getting to taste the wash.  The distillery does not in any way hide that Caol Ila is mostly used to make blends, for example Jonnie Walker.  After the tour, we were given a dram of whisky and got to taste 4 different versions, including the regular Laphroaig, a cash-strength version (available only at the distillery), and unpeated version and an older version.  All in all, this was a really great tour, but unfortunately we were not allowed to take photos (apparently the teeny-tiny LED flash on a camera can cause an EXPLOSION!).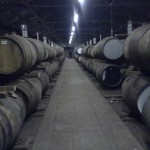 None of us really expected much from the Bunnahabhain tour.  Bunnahabhain is the unpeated whisky of Islay, and seeing as we all like peated whisky, this was not starting too well.  First we wandered a bit around and happened to enter the shop.  Here a quite rude person told us to wait for the tour downstairs.  The tour started with a relaly boring movie that makes the slide show at Ceres look good in comparison.  The movie featured a really corny love story and the head distiller praising his own whisky.  Then the standard tour.  We discovered that the tour guide was leaving in a couple weeks and it was quite evident he didn't care about the job at all anymore.  During the tour he forgot half of the people within the warehouse, and were about to lock them in when we reminded him of the rest.  After the tour, we got a tasting, and here the lazyness of the guide paid off, because we got to taste an older version of the whisky (17 years) rather than the standard, and he didn't care to use a measuring cup, so we got enough.  Alas, the 17 year version is not more exciting than the regular Bunnahabhain.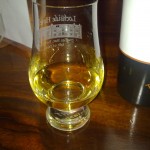 In the evening we went to Duffies, a whisky bar we were recommended by the nice tour guide at Caol Ila.  We tried several great whiskies, among them an only 12 years old Port Ellen (which is rare since they closed in 1982).  We also tried other exciting whiskies.
Tuesday: Bowmore, Port Charlotte, and Bruichladdich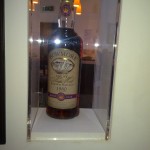 We did not have too high expectations for Tuesday.  Bowmore had always been the sort-of-boring Islay Whisky, and I knew little about Bruichladdich.  We first went to Bowmore.  The tour was nice, but we had heard the story many many times by this time, so we more or less just went around and looked on things by ourselves.  After the tour, we got a really nice surprise.  We we led into a lounge where a standard Bowmore was poured for everyone.  We thought that this was all, but then the guide said that this was a good whisky to use for comparison, after which we sat down in super-comfy chairs and drank our dram.  We then got to taste a bit of this and that from the bar.  We were 4 persons and each got two drams, so in total we got to taste 8 different whiskies, including 25 and a 21 years old ones priced at 200-300€ in the shop. Thumbs up and highly recommendable.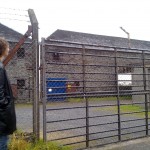 After Bowmore, we had a couple of hours before Bruichladdich, so we decided to take a look at Port Charlotte.  It turned out that the distillery, which was closed in 1929 (and called Lochindaal), was more a bunch of heavily fenced ruins.  We got a nice walk (and I got stung by a bee) and headed back to Bruichladdich.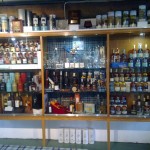 Bruichladdich has a huge assortment.  It is, in fact, so large as to be unapproachable.  The tour was sort of boring, but the tasting was nice (though not as nice as the one on Bowmore).  We got some whisky or other to start with (I have forgotten which), and then tried their peaty whisky, which was nice.  After that, we requested to taste the Octomore 2, which is very peated (at 140 ppm compared to Ardbeg which is at 50-60 ppm).  We all bought a bottle and got it signed by the distiller (Jim McEwan).  During the tasting, we also got to taste a whisky, which was just released at that time – it was some fruity Indiana Jones-whisky that I would not recommend.
In the evening we went to Duffies again and I tried a 22 years old Port Ellen first release from 1979, which was very nice.
Wednesday: Lagavulin and Ardbeg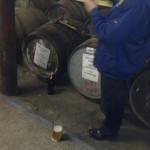 We had low expectations for Lagavulin but high expectations for Ardbeg, which we all like and who had to reschedule our appointment, so we hoped for a little more.  This was going to be completely different, though.  When we arrived at Lagavulin, they appologised and said that they had a huge tour from Holland, and had to reschedule our tour.  Instead, we got a very quick tour by the old head of the warehouse.  A quick tour was just what the doctor ordered as we had already seen most.  After the tour came the surprise: the single dram we were more or less used to, turned out to be 4 large drams of really interesting stuff.  Firstly, all the whisky was taken directly from the casks using a pipette.  Second, we started with a cask strength standard 12 years old, tried a 17 years old and a double wood.  The most interesting, even if it really didn't taste too good, was a 43 years old whisky.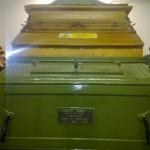 Finally Ardbeg.  First, we had some food at their café, which had been highly praised by many people.  The food was ok but not fantastic.  After I had a dram and the others had a coffee, we tried ordering a round of whisky, but were told that they needed the table and we should go away.  We went to the next doors room and after quite a wait got a dram (but not the whisky we wanted to order).  Then for the tour.  They had already asked us to reschedule, and now they plain out forgot us.  They then added us to a tour with 24 other people.  Starting this badly, surely nothing could make it any worse?  Oh but it could.  The guide were really into repeating things and saying the same things more than once.  We were bored and didn't pay too much attention which, of course we were scolded for.  The tasting afterwards was ok but nothing exceptional, especially not after the nice tour at Lagavulin.
End of a Nice Trip
All in all the trip was very nice.  For the best introduction, I would recommend the Bowmore tour (as they also have malting themselves) or Caol Ila.  The Lagavulin tour was very nice, and I would recommend getting their tasting tour despite the higher price.  It it much nicer to get a guided tasting afterwards, though it may be tough for the driver.  Stay away from Argbeg, they are jerks.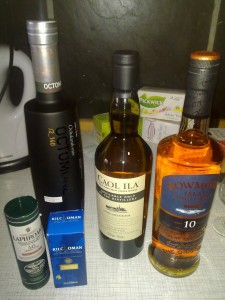 I ended up with 7 new whisky glasses (one from each distillery, except Caol Ila, which I broke after getting them safely thru Ryan Air's valuebles-destroyer) and 3 new bottles of whisky, an Bruichladdich Octomore 2, and Caol Ila Cask Strength, and a Bowmore Tempest.  I also got a small Laphroaig Cask Strength and a small Kilchoman 3 years whisky.
I can easily recommend getting a self-catering cottage – it is cheap and nice to be able to decide when you want breakfast yourself.  I cannot recommend the canned food they sell on the island, however, nor the indonesian restaurant in Port Ellen.  You shoudl stay in or near Bowmore, as they have the only restaurants worth visiting.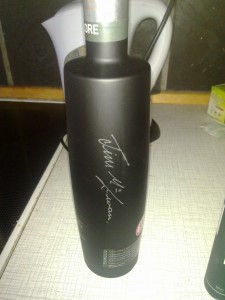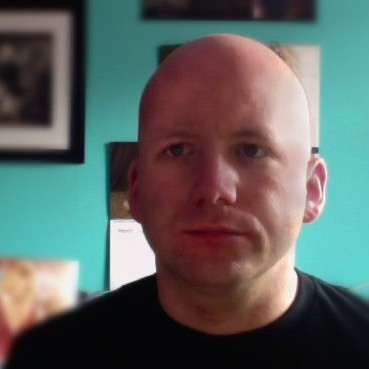 Time person of the year 2006, Nobel Peace Prize winner 2012.